Monster Hospital is a House/Supernatural crossover that will one day maybe be completed, but this is the playlist I listen to while prodding at the story, minus most of Across the Universe's soundtrack, haha.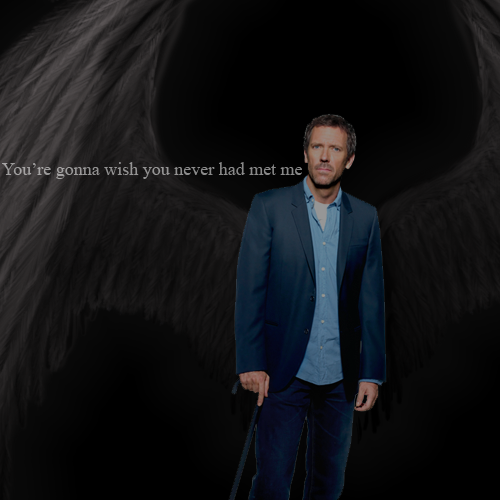 (
Collapse
)
Despite the pain in his hand, Chase still was voting for this to be a delusion of sorts.
"Not a delusion, either," House tells him.
"What, can you read minds now, too?" Chase asks, voice laced with sarcasm.
To his surprise, House answers: "Sometimes."
"This is impossible."
"O ye of little faith," House quips.
"My faith has long started to slip." Finally, Chase pushes himself up from the floor and faces House. "And besides! You're one to talk! You're a hypocrite. You tell everyone there's nothing to believe in, make fun of their faith, battle it out with God! What kind of 'angel' does that?"
When House turns on him, the lights in the room shatter until only one sparks and explodes to life, casting a massive black shadow on the wall behind House, two dark wings spreading out from either side of him. Chase sees House's grim expression before the last light heaves its final breath and joins the rest as pieces on the floor. The little light that shines in from the hallway catch in House's eyes, tripping over something
otherworldly
that Chase had never seen in them before, or was never able to name.
Chase takes a hesitating step backward.
"How about the angel who's father abandoned them when they needed him," House growls, and then he's gone from the room, leaving Chase alone with the image of shadowy wings vivid in his mind.